How Can We Strengthen Local Capacity for ICTs in M&E?
New technologies are changing the nature of monitoring and evaluation, as seen in our previous Salon on the use of ICTs in M&E. However, the use of new technologies in M&E efforts can seem daunting or irrelevant to those working in low resource settings, especially if there is little experience or low existing capacity with these new tools and approaches.
What is the role of donors and other intermediaries in building local capacity for communities and development partners to use new technologies to enhance monitoring and evaluation efforts.?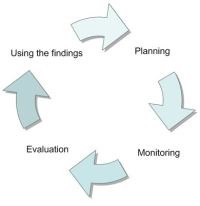 This August 30, join the Rockefeller Foundation, the Community Systems Foundation, and your friends at the Technology Salon for the second of three Salon discussions around the use of new technologies for monitoring and evaluating development outcomes. Some aspects we will be discussing, include:
How are smaller organizations, development agencies and communities incorporating these tools in sustainable ways? Are there any well-documented case studies?
What examples exist of blending new ICT tools and traditional M&E approaches to adapt to local contexts?
What local or regional intermediaries exist who can support this process?
How can donors and other intermediaries help encourage and strengthen M&E capacity in local organizations, institutions and individuals?
We will have 3 thought leaders joining us for the session:
The World Bank's Innovation and Governance team (discussant name TBC) will share how the Bank has worked with intermediaries on open data and open government and the potential role of Technology Hubs
Tom O'Connell, UNICEF Health Specialist, will discuss capacity strengthening on local health systems
Revati Prasad, Senior Program Officer at Internews, will talk about how the organization goes about strengthening local capacity with their partners and in local communities.
As always, we hope you will bring your experiences to the Salon as well for a lively and engaging round-table discussion on the ways that new technologies are changing how we work.
Strengthening Local Capacity for ICTs in M&E
August Technology Salon New York City
9-10:30am, Thursday, August 30, 2012
The Rockefeller Foundation
420 Fifth Avenue
New York City, NY (map)
We'll have coffee, tea and light breakfast for a morning rush, but seating is limited so RSVP ASAP to be confirmed for attendance or you will end up on the waitlist.
For those attending, please arrive 15 minutes early to clear security and be sure to bring photo ID.
---
The Technology Salon™ is an intimate, informal, and in person, discussion between information and communication technology experts and international development professionals, with a focus on both:
technology's impact on donor-sponsored technical assistance delivery, and
private enterprise driven economic development, facilitated by technology.
Our meetings are lively conversations, not boring presentations. Attendance is capped at 20 people – and frank participation with ideas, opinions, and predictions is actively encouraged.  It's also a great opportunity to meet others motivated to employ technology to solve vexing development problems. Join us today!
Tags: ICT4D, Knowledge Sharing, Monitoring &Evaluation, Technology Salon, USA